Düsseldorf: Esprit wants to leave, but has to pay
source: DerWesten.de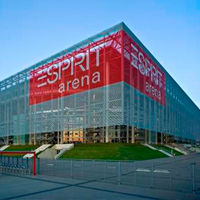 Naming rights holders Esprit terminated the deal unilaterally, arguing the ESPRIT Arena operators didn't fulfil their side of the contract. Düsseldorf authorities demand to be paid anyhow. DerWesten.de report.
From March 2009 the modern stadium in Düsseldorf bears the name ESPRIT Arena as part of a 5-year long deal worth €800,000 annually. However, one year before the naming rights agreement runs out the clothing brand claim cooperation is already over.
Esprit terminated the contract unilaterally, arguing the stadium managing company didn't fulfil their part of the contract. What this specifically means is not clear, but media suggest one of the issues might be hiding the sponsored name for 2011 Eurovision finals, which Esprit saw as unlawful.
Still, Düsseldorf authorities expect the sponsor to cover their annual fee of €800,000 anyway, as they assure 'blacking out' the Esprit logo during 2011's festival was not a breach.