Costa Rica: National team want to leave national stadium?
source: AP.org; author: michał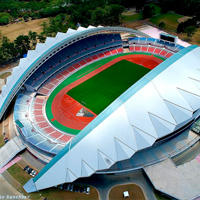 In an unexpected move the Costa Rican football federation asks for prestigious game against the USA to be played at an older and smaller stadium. Does this mean they don't want to use their newly-opened national stadium any more?
Costa Rican football federation FCF has asked for relocation of the Sept 6 qualifying game against United States. The fixture is to be played at new Estadio Nacional, but a different venue in San Jose is preferred now. It's Estadio Ricardo Saprissa, much smaller and older.
Why the change? Eduardo Li, president of the Costa Rican Soccer Federation, said Wednesday that's what the Costa Rican people want. "The voice of the people is the voice of God, and if people want us to play there, we will play in the Saprissa against the United States," Li said in an interview with the radio station Radio Rican DNA.
The swith has to be accepted by both United States and FIFA. The latter may require upgrades before approving the smaller stadium.
Li said Club Saprissa President Juan Carlos Rojas was willing to make the necessary arrangements at the stadium to host the match. "I would not want to say anything else about the possibility of holding other matches there, but if we play at the Saprissa, we have to have the right conditions and that's what I told Mr. Juan Carlos Rojas," Li said.