Columbus: Unusual fire of Crew Stadium's scoreboard
source: dispatch.com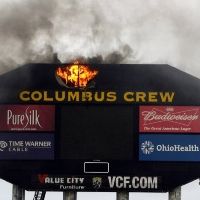 Though fans were very entertained by the event, evacuation had to be carried out at sections below the giant screen, which caught fire. With good reaction of the firefighters game against DC United could eventually take place.
Some 25 minutes before planned kick-off at Columbus Crew Stadium smoke started coming out of the scoreboard. Flames followed a moment later as – most probably – short circuit caused sparks to set loudspeakers atop the structure on fire.
The end stand was evacuated immediately as Crew awaited for fire brigades to arrive. The Columbus Fire Department brought in several ladder trucks and extinguished the fire while the sections containing fans were cleared.
There were no injuries reported and the match started 50 minutes late (players needed additional warm up) as the Crew defeated D.C. United 3-0.