Cardiff: New stadium to grow by 8,000 seats
source: WalesOnline.co.uk; author: michał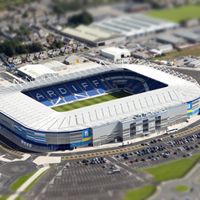 Having advanced to the Premier League a few days back, Cardiff City begins work on stadium expansion. Not for the upcoming season, but for 2014/15. Expected size should reach 35,000 then, WalesOnline.co.uk informs.
Denying any will to play at Millennium Stadium, Cardiff City are launching their redevelopment plan for Cardiff City Stadium.
The venue holding under 27,000 people was already planned with an increase possible, but initially the final size was envisaged at 30,000-32,000. Now plans are being rethought to fit in even more, up to 35,000.
The news comes after last weekend's promotion celebration, giving City first ever spot in the Premier League along archrivals Swansea. But the move is no surprise as controversial billionaire Vincent Tan declared he would expand the stadium already when taking over at the club, back in 2010.
Cardiff City isn't rushing things, they plan to have the stadium revamped for their second PL season, not the upcoming things. "We've never been presumptuous about our promotion. As a club it was case of getting it done first and then worry about the other bits later," club director Steve Borley said.
He described the expansion as "basically a Meccano job" in which the roof would be taken off to allow pre-fabricated steelwork and pre-cast concrete seating units to be "dropped in".
Though fans are sure to experience some compromise in terms of comfort, capacity shouldn't be falling throughout the process.
The plan priced at possibly £12 million shouldn't challenge financial situation at the club who are now hoping to quadruple their revenues during first ever PL campaign.
Still, Mr Borley doesn't forget that the future size of Cardiff City Stadium is nowhere near historical figures at Ninian Park. "The last time we were in the equivalent of the Premier League our average attendance was 46,000 and there were games at the old Ninian Park where there was 55,000 and 60,000."