Brazil: Sports minister afraid fans will be priced out after 2014 World Cup
source: Reuters.com; author: michał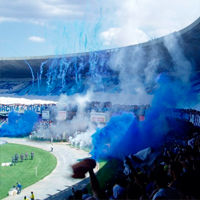 New stadia brought new ticket prices and a new problem for Brazilian fans. Cheapest tickets for some games already cost more than in most European leagues and situation may get worse. The government is concerned about gentrification threat, Reuters reports.
The Brazilian government is worried ordinary fans could be priced out of the country's modernized stadiums in an unwanted legacy from hosting the 2014 World Cup. With 9 out of 12 arenas set to go from public to private management, generating revenues gets priority over serving the community.
Already after just two stadia opened for public price increase has been very significant. Cheapest entry fee for some games at Arena Fonte Nova is set at 50 Reais, while at Mineirao it even reached 60 Reais ($25-30, €19-23), while both these venues have just been opened, indicating further increase may be around the corner.
"Football had and has a very central role in building national identity in Brazil," says Luis Fernandes, Brazilian sports minister. "So we are very concerned with that aspect and will be dealing with it in terms of national and state legislation."
The fear is that exclusivity may cause further alienation of poorer citizens, not mentioning a very significant loss of atmosphere inside the stadiums, mostly generated by vocal 'popular' sections, the cheapest ones.
"It would change from one where what predominates is the so-called D and E class, to one where there will be a heavy predominance of what they call class A and B spectators who will not only buy the tickets but will also consume in the stadium.
"But if you want to shift the social origin of the spectators so you can have people that can afford to buy other merchandise and food besides tickets, that could be a negative side effect."
The changes may be slowed down to some extent by limited popularity of match-going in the Serie A. Current attendance averages are at some 13,000 for the entire league and the torcidas are most represented among those in attendance. Will there be enough people interested to fill the stadia when they're out?