Atlanta: Five giants t fight for $1 billion stadium design
source: ajc.com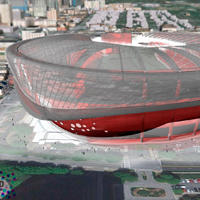 These brands are well known worldwide, with numerous stunning projects in their portfolios. Now they were chosen as finalists for the new Atlanta Falcons stadium. We should know the winner within weeks.
For the past two days representatives of Atlanta Falcons and Georgia World Congress Center Authority were interviewing bidders for the new stadium design. A final five has been selected already.
The finalists are Philadelphia-based EwingCole; Dallas-based HKS; Kansas City-based firms Populous and 360 Architecture; and Tvsdesign of Atlanta (in partnership with Heery International and Gensler).
New stadium should be built in 2017 (if no unplanned changes occur) and will be located south of the existing Georgia Dome. With capacity of app. 66,000 (expandable to 80,000) and retractable roof it is estimated to cost around $1 billion, though detailed budget will only be known once design phase is done.
The stadium will primarily serve the American football team Falcons, but it's also required to meet FIFA's regulations for international tournaments.