St. Petersburg: Worker killed in lifting accident
source: R-Sport.ru; author: michał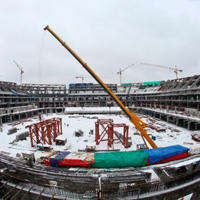 It's hard to find a crisis that hasn't taken place at the "never-ending construction" in St. Petersburg. But this time it's sadder than before, as a man lost his life.
As R-Sport.ru reports, fatal accident took place on Saturday, with a man of unknown identity being killed by a piece of structure that was being lifted. Work at Zenit Arena hasn't been halted.
Exact circumstances haven't been disclosed yet, nor did the investigators explain, why they waited 2 days before announcing the fact to the public. At this point there are several hypothesises, but most probably securing rope broke, making a piece of steel structure fall during its lifting.
The unnamed man is the third worker to die at a World Cup 2018 arena in the last six months. In November, a 25-year-old construction worker was killed at the site of the future World Cup stadium in Kazan when a crane collapsed, and in October a 48-year-old builder died in a fall while working on Spartak Moscow's new stadium, also a 2018 venue.