Sheffield: Decision made, famous stadium to be torn down
source: BBC.co.uk; author: michał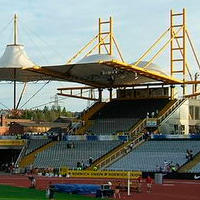 Currently the best athletic stadium in England is to be demolished in an attempt to cut costs. Previously discussed, the move is now confirmed, despite criticism over potential negative influence on sports in Sheffield.
Annual running cost for England's best stadium with a running track stands at £700,000 (or $1.1 million, €800,000), while dramatic situation of Sheffield's finances forces authorities to find £50 million savings. Closing the biggest non-football venue is one of many ways to cut cost.
The move has been widely discussed and criticised for some time as just half a year ago Jessica Ennis won gold medal in London after having trained at this very stadium. It was even expected to receive her name, but with demolition on the horizon this hasn't happened in the end.
Ennis herself expressed dissapointment with the move before it was confirmed two days back. "It's a huge shame. To see it demolished would be a massive, massive disappointment," Ennis said.
Sheffield authorities assure they're not leaving local athletes without a home. Woodburn Rd Stadium just south of Don Valley Stadium is to be renovated and reopened to provide suficient training facilities.