Rio de Janeiro: 2016 Olympic stadium roof poses threat to safety
source: StadiumDB.com / IANS; author: michał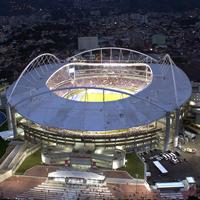 Though built just 6 years ago, most modern stadium in Rio de Janeiro has structural issues that could lead to tragedy if not dealt with. Roof supports are cracked and the structure moves alarmingly. Rio mayor closed the stadium indefinitely.
Built as the centerpiece of 2007 Pan American Games, popular Engenhão is also at the heart of Rio's winning bid to host 2016 Olympics and Paralympics. But it seems that more work will need to be done than planned initially.
Apart from possibly adding extra seats behind goals, organizers need to double-check the roof's stability. Mayor Eduardo Paes informed that a construction consortium (company not named) study shows alarming changes in the structure.
Roof supports, placed in four corners of the stadium, are cracked and the massive cover is moving, depending on wind. While every structure may show some movement, the numbers aren't within expected standard.

"There is a structural problem with the stadium`s roof and we are going to find a definitive solution. The (construction) consortium has shown me what the problems are but at this stage there is still no proposal for a solution. If they tell me the stadium needs to be closed for a month, it will be closed for a month. If it needs to stay closed for a year, it will be closed for a year," Paes said on Tuesday.
Consorcio Engenhao, the building consortium responsible for the project, said it had been collaborating with the local government to find a quick solution.
"We have been involved in talks with the mayor regarding the matter. Tomorrow [Wednesday] we will go into more detail about the technical aspects of the problems found," a spokesperson for the consortium said.
This concerning news isn't only a blow on Rio's image, but most importantly a practical disaster for as many as four popular clubs based in Rio de Janeiro. Fluminense, Flamengo, Vasco da Gama and Botafogo now need to immediately find alternative venues for their games, while the famous Maracana is still under construction.