Poland: Giant in Chorzow to receive roof after all
source: StadiumDB.com; author: michał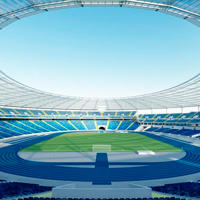 After the accident from 2011 works on the cover for Stadion Śląski have been halted. However, today voivodeship councillors decided that redesigning the roof and finishing the project will be better than leaving the stadium uncovered.
In case you haven't followed us on this one, redevelopment of Stadion Śląski was stopped in July 2011 after roof elements broke during the 'big lift', lifting of cable roof structure over the 55,000-capacity stands.
Since then various experts expressed their views on the subject, but only the last expertise, from late 2012, had the construction supervising body convinced. Thus the supervisor demanded that voivodeship authorities (regional/provincial body that owns the stadium and overlooks the works) gives a final decision on the stadium's future by the end of March.
There were three options on the table and on Friday councillors were informed about budget costs behind each of them. Each option means a huge cost increase to the PLN 465 million plan (€112m, $146m). What is no surprise, the councillors supported the least expensive option. However, continuation of works on all parts of the stadium (roof included) appears to be the that option, at PLN 121 million (€30m, $38m). With this plan selected today, total budget of Stadion Śląski's revamp would stand at almost PLN 587 million, or €141 million / $184 million.
Meanwhile, scrapping the roof and dismantling the existing roof-supporting structure (while other areas would have their work finished, like supporter facilities) stands at massive PLN 196.8 million (€47m, $62m). Dropping all the works and just making the stadium operable again would mean expenditure at PLN 159.4 million (€38m, $50m).
How come the most extensive option is the least expensive at the same time? Authorities at the voivodeship assume that dropping the most relevant part of the redevelopment – the roof – would mean they would have to return PLN 110 million subsidy to the national budget. This is why both cancellation options are so expensive.
However, the figure for finishing the works shouldn't be taken for granted at this point as well, as no time frame or exact design changes aren't known at this point in time. This means that deadline for finishing the development, today set at June 2015, is also an estimation only.