Nottingham: Cannabis lamps to improve pitch for Notts County
source: Guardian.co.uk; author: michał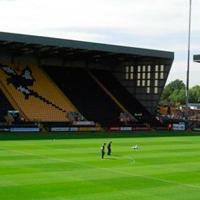 These lamps had previously been used to grow marijuana, until they were seized by local police in raids. In an unusual step the force has donated lamps to Notts County, who hope they'll support grass growth at Meadow Lane, as Guardian reports.
Heat lamps used by local drug manufacturers to grow cannabis without sunlight are now under police custody and will be donated to Notts County. This move sounds surprising as usually equipment confiscated during raids is destroyed, but in this case the lamps can be made good use of at Meadow Lane.
Students from Nottingham University are helping to design and build wheeled rigs to house the lamps, which should be ready for the rigours of next winter.
Greg Smith, County's stadium manager, told the BBC the donation would save them thousands of pounds: "Normally to buy one rig you are looking at between £10,000 and £15,000.
"We've got a main stand that doesn't allow the light in during the winter. So, we can have them from the start of October through to the end of February, hopefully growing grass for us."
Supt Mark Holland said it was a "win, win" situation. "This property would normally be crushed, so it is important it gets re-used and a lot of people are getting the benefit from it," he said.