New stadiums: Kaspyisk, Vladivostok, Moscow
source: StadiumDB.com; author: StadiumDB.com team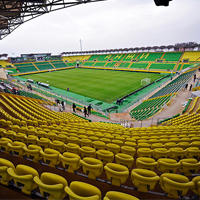 Today we have quite a tasty treat for you all: Probably the poshest temporary stadium ever, one of the best reserve team venues built anew and surely the most extreme away destination, almost 5 days one way – Vladivostok.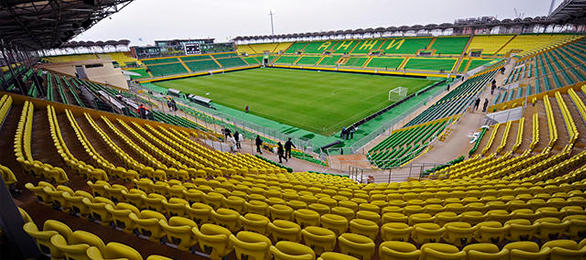 New stadium for Anji, initially named Khazar Stadion, wasn't built in Makhachkala, as one would think, but in nearby Kaspiysk. Its story is quite amuzing as soon after its opening in 2003 the venue was abandoned by Anji, who chose to play their games at a different venue, closer to the centre of Makhachkala.
It wasn't until 2011 that they became interested in this stadium again. Old single-tiered stands were renovated, new corner sections erected and then topped with corporate facilities and a modest roof.
Anji Arena surely isn't perfect, but it's just a temporary solution. Despite the massive extent of works, the shiny new venue, reopened in March 2013, will become the secondary/training facility of Anji once they finish work on their new stadium, that is now planned to hold some 40,000.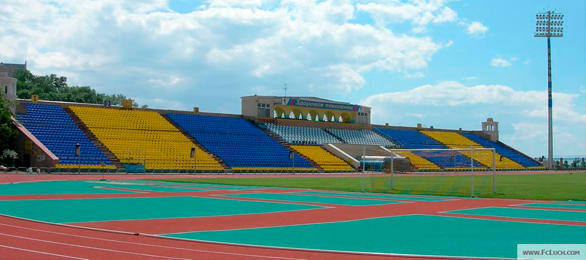 Located in the strict centre of Vladivostok, this stadium lies just several meters away from the Amur Bay waters. It has two stands along the pitch and running track.
With the club advancing to the Premier Liga in 2003, there was a major renovation, during which seats were installed. Their number today stands at 10,200.
For Russian supporters taking part in an away game here is a kind of challenge with Vladivostok being over 9,000 kilometres away from Moscow (5,600 miles or 5 days on the road, one way). This act of devotion isn't rare, though. For many groups it's a matter of honour to send at least some representatives to away games there.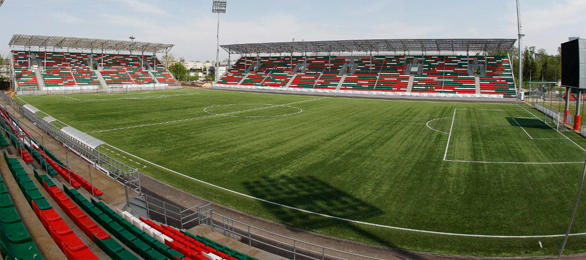 It was built in 2009 as backup/training infrastructure for the Lokomotiv Stadion, just meters north of the bigger venue. Initially the club built three stands for a total of 5,000 spectators, but already in 2010 expansion began.
By 2012 the stadium was already able to hold 10,000 people. Just like initially, it retained three stands only, with each gaining additional rows and roof.
It's usually used by Lokomotiv reserves and youth team, but due to its high standard also smaller clubs from the vicinity use it.