New stadiums: Chernivtsi and Dobromyl
source: StadiumDB.com; author: StadiumDB.com team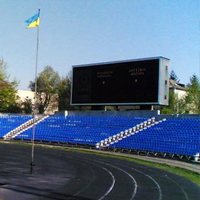 Today we go to western Ukraine and see where 1st league clubs of FK Lviv and Bukovyna play their games. These stadiums never became too known outside of Ukraine. Well, time to change it!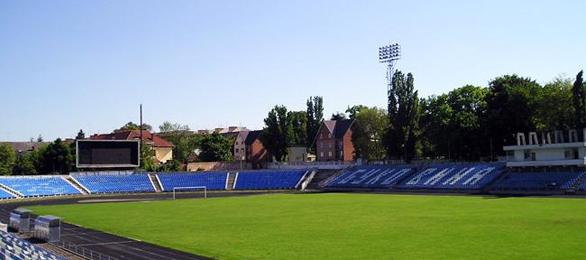 Some 250km (155 miles) south-east of Lviv, just north of the Romanian border, is the city of Chernivtsi. With a quarter of million population, the city has one major stadium, used by the football side Bukovyna, with whom the stadium shares its name.
The ground was built and opened in 1967 within the city's largest park, almost in the centre of Chernivtsi. Typically for stadia built in Eastern Europe in those days, it has elliptically shaped stands created on land slopes.
This simple and cheap form is preserved today, but not all too outdated, thanks to the 2000 redevelopment, during which it was converted into an all-seater with 12,000 seats. The stadium also boasts an impressive 15-meter wide scoreboard.
Apart from football games it also played host to concerts, including the famous Chervona Ruta festival in 1989 and its 20th anniversary repetition, with president Yushchenko in attendance.
Stadium in Dobromyl (just 5km away from Polish border) was built in 2007 for the local club. But since the very beginning it's been mostly the home of FK Lviv. Even the opening game, ironically played one day before actual opening, was one between FK Lviv and neighbouring club from Ivano-frankivsk.
The ground can hold 3,220 people on two covered stands (along sidelines) and two without roof – behind goals. Despite initial problems meets all requirements to host 2nd tier football in Ukraine.
Until 2010 the stadium was known as Knjazha Arena.