New design: St. Mary's Stadium
source: StadiumDB.com; author: StadiumDB.com team
Since 2009 they've been fighting back for the position 'The Saints' used to have. Bit by bit they're regaining it and redevelopment of St. Mary's Stadium is among the anticipated steps.
It's wasn't long ago that Southampton were in administration as the once great club faced rapid decline. But they were rescued by new ownership of Markus Liebherr (yes, the one known best for cranes) and started regaining strength.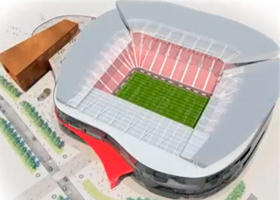 Played in Championship last year and are already in Premier League in the current season. Despite being near the relegation zone, they've got the current stadium packed every single game – almost 32,000 on average with capacity at less than 32,700.
Before this campaign season ticket holders received DVD's with the club's mission. Apart from regular match clips there were a few renderings showing how St. Mary's Stadium may look in the future. All stands apart from the east one expanded and capacity of 46,000-50,000 seats. All that wrapped in commercial spaces with new, more modern and impressive façades.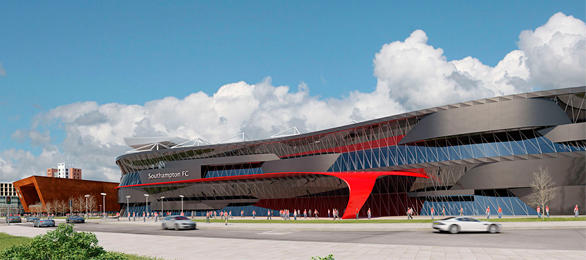 The large capacity increase surely wouldn't happen in just one phase, but even the most modest rendering, showing a very slight increase in capacity, envisages the extensive commercial surroundings, with office and banqueting space most certainly included.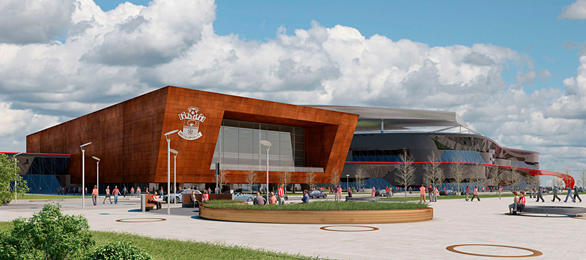 So far the club seems to avoid giving any details about the months-old plans, but seeing that they cooperate with renowned AFL Architects, it seems a lot more than just a fantasy. Especially that St. Mary's Stadium, despite being built in 2001, lacks the amenities many modern stadia offer. So it seems more a question of 'when' than 'if' this gets done. And when we know more, we'll let you know for sure!