New design: Moston Community Stadium
source: StadiumDB.com; author: StadiumDB.com team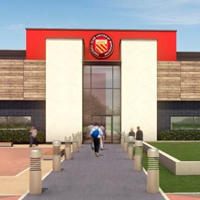 First plans were announced back in 2007, but only now it seems this stadium is indeed getting built after all. First time in history, a supporter-created club will have its own venue!
FC United of Manchester is a football side created by Manchester United fans dissatisfied with what their club has become. Glazers, sky-rocketing ticket prices, restrictions on behaviour inside Old Trafford – all of these were among reasons for the 'rebels' to form their own club, one that would serve the community in a way they thought works best.
With their first decade in operation behind the corner, FC United still seem strongly committed to the idea and are on their way to become the first club of this kind to build its own stadium.
First plans were announced back in 2007, because playing home games at Bury's Gigg Lane proved very costly. Despite impressive attendances of 2,000 or even more (try having this many viewers in 8th or 7th league!) games are still generating losses.
This is why the plan to move to Newton Heath, Manchester United's spiritual home, was drawn. The concept gained shape in 2010, when first renderings of the future venue released. Back then it was to have two major stands, conjoined shaping the letter L.

However, the City council backed out of their support for the Newton Heath location in March 2011, forcing FC United to find a new plot. This happened in just under one month, when Moston (slightly to the north of Newton Heath) was picked as the new location. New design was made, developed by Taylor Young. The stadium is to have one major grandstand with extensive community infrastructure and three smaller ones. Total capacity of 5,000, seats and standing included. FCUM are teamed up with Moston Juniors FC, who will share their ground.
Surprisingly to some, supporter themselves managed to gather £1.6 million for the stadium, which is over a third of the complete cost, set at £4.5 million. The remainder will come from Manchester City Council, Development Fund and several other institutions that confirmed their financial involvement.
All indications at this point say this stadium is getting built as just today opposition from local residents was overthrown. Residents United Residents Association (RURA) opposed the project from the outset.
They successfully forced a Judicial Review into the planning decision for the project which was given in October 2011. At that hearing a High Court judge decided the decision should stand.
However, they continued their fight and sought a further hearing at the Court of Appeal.A Court of Appeal judge refused that request - leaving them to seek an oral hearing to ask for an appeal which was held this morning.