Milan: Inter stadium smaller, but better?
source: CCTV 14, Tuttosport, Rai Sport, e Gazzetta, fedenerazzurra.c; author: michał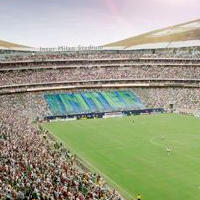 The planned stadium of Inter may turn out a lot smaller than planned initially. But, if press leaks prove true, it may be among the most impressive and modern worldwide.
Retractable roof of translucent glass, heating and cooling systems, photovoltaic panels and advanced technology in other elements. Then five tiers of seating, with corporate balconies included.
The above is partial description of yet-to-be-released design of the new Inter stadium, planned to be built in south-eastern Milan. It may thus become one of the most advanced venues worldwide.
But surely won't be a huge one. It's now downscaled twice compared to early ideas commissioned by American David Manica a few years back. The architect was asked to develop a venue comparable to San Siro, with over 80,000 seats. Then the dominant capacity in media releases of Inter became smaller – at 60,000-67,000 seats. Now it may be as 'little' as 46,000.
Swedish AIK club chairman Johan Strömberg already saw the design during consultation meeting in January and was left stunned. "The new Inter stadium? It will be one of the most beautiful buildings in the world. Certainly the most beautiful stadium in Europe. It has been on Moratti's plans for a long time. Most people think and say that the San Siro is legendary. If such is true, then the new Inter Stadium will be 'godly.' Inter plan to take the best hotels and art facilities around Europe in the plans of the stadium", he was quoted to say.