Mexico: Giant invasion of Tigres fans
source: StadiumDB.com; author: michał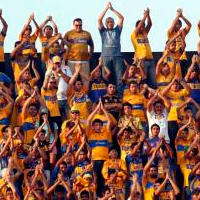 This kind of away games is rarely seen anywhere in the world and even fewer times with this kind of distance between the two cities. But yesterday San Luis Potosi got invaded by some 23,000 away fans, leaving just a small piece of the stadium for home side.
Saturday's game between San Luis and Tigres seemed like the clash of David and Goliath in many terms. First of the two teams is at the bottom of the table, the away side are leaders. In terms off attendance situation looks similarly, Tigres attract most people in Mexico, some 41,000 per game, with San Luis barely exceeding 10,000.
But yesterday San Luis had no chance of getting 10,000 of their own supporters inside the ground as Tigres had been preparing their 'invasion' for some two months. Estadio Alfonso Lastra Ramírez was taken over by some 23,000 away fans, with home fanatics managing to take just a small section of their own ground.
Travelling mostly by cars and buses (sometimes literally on city buses) fans from the northern Nuevo León had some 540km (335 miles) to do and then return, making the trip last almost 24 hours in some cases. Some of the massive number didn't even manage to see the game with their transport coming late, but with the festive atmosphere they created it seems everyone was quite happy.