Madrid: Real's plans hanging by a thread?
source: AS.com; author: michał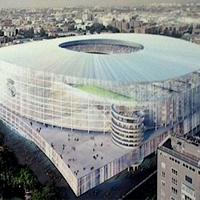 In October Real presented four finalists for future Bernabeu redevelopment. Best architects, stunning ideas and… nothing happened. Instead of a final selection the project is on hold, while local community and environmentalists attempt to sink it. Report by AS.
It was in October last year that we first saw the four great visions by world's top sports architects. Announcement of the winning bid was due in November. And despite architects spending €500,000 on their concepts, none of them knows what the outcome will be.
It's not only about architects, too. Real announced first phase of the Santiago Bernabeu redevelopment to begin in June, which leaves the club just 3 months.
Why are Los Blancos so quiet about their plans? Because others are loudly opposing them. A group of 814 local residents formed Vecinos del Bernabéu association and try to Block the planned development.
They already managed to put a deadlock onto it, having received a letter from mayor Ana Botella in February, stating that Real is not allowed to expand the stadium's surface or capacity. Such a statement is rather intriguing, when we take into account that Madrid municipality already gave Real the narrow plot between Bernabeu and prestigious Paseo de la Castellana.
This is where the club plan to build a hotel and shopping centre, both to be conjoined with the stadium. Complete commercial space would thus increase by over 12,000 sqm, standing in contrast with mayor's February statement.
What's more, many opponents of the redevelopment scheme argue that by agreeing to donate the land, municipality didn't act in the interest of Madrid or its citizens, but in the interest of Real only. Their argument is that Real received the precious piece of land in exchange for bigger, but more obscure plot a whole 7km away from the stadium (in Carabanchel), which Los Blancos transferred to Madrid in return.
Aiding the residents are environmentalists, who fear that the planned expansion of Bernabeu may negatively impact the environment in what already is a very densely housed area.