Italy: AS Roma bypasses 'Tessera del Tifoso'
source: StadiumDB.com; author: michał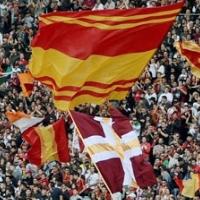 Ever since it was announced in 2009 the fan card, or Tessera del Tifoso, has been causing more displeasure than actual safety increase for fans. AS Roma was the first to try and break away in 2011. Now it's also the first to try and bypass the system, by introducing a different card.
Introduced from the 2009/10 season (and obligatory from 2010/11), the new fan card has been subject to countless protests by fan groups all over Italy. But, just like in some other countries, it went into force.
Main declared aim of the central authorities was to increase safety. But many supporters, NGO's and privacy protection institutions argue that it does nothing to ensure higher safety to fans. Moreover, it's used as a merchandising tool, being a payment measure and loyalty card.
Many fans felt they are being pushed into the scheme for someone else's gain. Meanwhile almost all clubs under the scheme noted losses due to falling ticket sales. No wonder that already ahead of 2011/12 season AS Roma was the first to try and drop the system.
Inspired by MyRoma Supporters Trust, the club announced the sale of season tickets without necessarily acquiring the tessera. However, National Observatory on Sports Events argued that Serie A have agreed to implement the project, effectively blocking this and similar attempts that followed in other clubs.
Now it's also Roma paving the way for others, but all indications say their newest attempt will go forward as planned. This time they're not trying to drop the system, but instead introduce a new one that will work alongside Tessera del Tifoso. The AS Roma Club Away card is addressed to fans travelling away with Roma. Both can be seen below.

It's less complicated, can be easily acquired in several spots in Rome and provides no chips or payment methods, only a simple bar code that, once scanned, allows access to the away section anywhere. What's most important, however, is that to get one of these cards or enter the stadia of Serie A fans are not required to have Tessera del Tifoso.
The new card comes into force on April 4, costs €20 and is valid over the period of 3 years. Replacing one fan card with another is surely not the most desirable solution, but sounds like a compromise that already made its first success – wasn't blocked and can operate under existing legislation.