Indonesia: Jakarta giant to stay empty?
source: jawaban.com; author: michał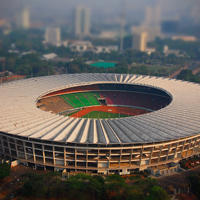 Indonesian national team is urged to pay for the lease of Gelora Bung Karno, one of Asia's largest stadiums. If arrears aren't covered immediately, Indonesia won't be able to play at its own national stadium, according to Jawaban News.
Earlier today the managing company of Stadion Utama Gelora Bung Karno called a press conference and announced that the national team managers haven't paid for games held at the venue during the last year.
The debt for lease and organising costs has been estimated at IDR 137 million (or €11m / $14m). The operator urges Indonesian national side to cover its arrears immediately.
If no payment is made soon, Indonesia may face an absurd situation in which its own national team will not be able to hold games at its national stadium. More importantly, Gelora Bung Karno is the only stadium in Indonesia able to meet the huge demand for tickets.