Holland: Shops inside the stadium to sink the dream of Heracles?
source: retaildetail.nl; author: michał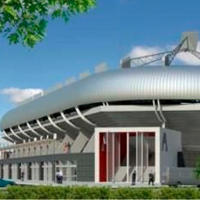 Heracles Almelo hope to build their new 15,000-seater along with private partners Wyckerveste and BAM. But consultants report that placing 22,000 sqm of shopping space isn't feasible. Council is to vote on the idea on Tuesday, retaildetail.nl informs.
New stadium for Heracles Almelo is to be built alongside current Stadion Polman in 2014 or 2015. The project will be privately-financed. Currently Wyckerveste, future managers of the venue, submitted their bid for the land.
City council will take a vote on the bid on Tuesday, but the project is far from safe to go through. Consulting company DTNP produced a report claiming that 22,000 sqm of shopping space (large outlet, supermarket, sports store – among other) isn't feasible.
Their argument is that 25% of shops in Almelo are currently empty, more than the national average. Producing such a huge complex will only worsen the situation according to DTNP. What's more, the commercial precinct would have significant competition and is thus not a good solution.
Heracles, Wyckerveste and BAM still hope to pursue their plan and count on the vote agreeing their project to get done. Without the commercial part it cannot happen.