Glasgow: Rangers agree naming rights sale to Sports Direct
source: Guardian.co.uk; author: michał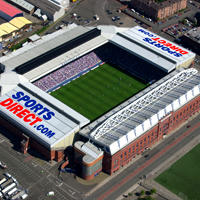 The club is now preparing pictorials, so that fans have an idea of what's on the table. Ibrox is expected to have Sports Direct naming rights before 2013/14 season kicks off, Guardian.co.uk reads.
After receiving a distanced approval for the move a few weeks ago, Rangers agreed to sell the name of Ibrox for the first time ever. Despite season ticket sale at 38,000, the club still struggles to return to elite football and that's the very reason for fans to even consider having a sponsor on Ibrox.
Ever since the idea appeared, Sports Direct has been named as most probable partner, with Mike Ashley having a stake at the club and his company being Rangers' technical partner already. Now it's confirmed that Sports Direct will be put onto the historical venue. Glasgow club hope to have the deal approved by the next season.
Charles Green, the Rangers chief executive, explains what's being done at the moment. "We are now into the stage where we are doing some layouts, some pictorials of how it might look and we'll stick those on the website shortly so the fans can see what's being proposed".
In case the above miniature got you scared that logos that big will appear on the roof, stay calm – it's just our attempt on what can, but doesn't have to be.