England: Hull City slam police strategy of supporter criminalisation
source: FSF.org.uk; author: michał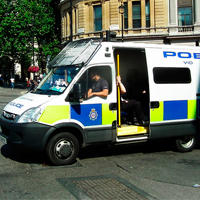 Despite safety restrictions often being criticised, it's usually the fans who speak up. This time they're fully backed by their club, who openly dismiss police claims that West Yorkshire Derby needs to be treated as highest risk game.
You may recall the case of a young boy threatening to demand judicial review of police practices. This was connected to upcoming West Yorkshire Derby between Huddersfield and Hull.
Fans of the away side were initially ordered to travel only by escorted official club transport, while their allocation was downsized from 4,000 seats to just 1,500. The game on March 30 was ranked as one of highest risk of violent behaviour. All this with no major incidents by Hull fans throughout the last season and the derby not being a violent one at all.
After fans from almost all groups launched protests against such treatment by West Yorkshire Police, including Huddersfield supporters, the force offered a compromise. Hull would get a slight increase in their ticket number (still far from the regular 4,000, though), while travel restrictions would only apply from Huddersfield city limits, where fans would have to leave their cars and be taken by shuttle transport to the stadium.
This proposal was unanimously described as "shabby compromise" and supporters, backed by Football Supporters Federation, assure they will not rest with their protests, cumulating on the matchday. They plan a march through Huddersfield and hanging a banner inside the half-empty away section.
Surprisingly, this time fans aren't on their own, as Hull City also consider the treatment out of place. Below you may find the full statement released by the Tigers:
Hull City's away game with Huddersfield Town on Saturday 30th March has been given the security categorisation of C+IR by West Yorkshire Police. This is the highest possible security categorisation, and, despite Hull City having no record of fan trouble or disorder, West Yorkshire Police have placed draconian restrictions on the freedom of our fans who wish to travel to the match in their usual way.
Since the imposition of this unprecedented level of security categorisation, we have been endeavouring to remove, or at least reduce, the categorisation which places an unpalatable slur upon the club, its fans and its home city. During this process we have been in close consultation with the Football Supporters' Federation, who represent football fans across the United Kingdom. The result of these efforts has been a loosening of the travel restrictions but there has been no amendment of the security categorisation.
As a consequence Hull City has, as a club, been left to reflect upon both the feelings of its own supporters and the implications for away fans in general. We have compared the policies of forces such as West Midlands Police with West Yorkshire Police, who operate under the same national ACPO and FA guidelines, yet apply them in diametrically opposing manners.
In listening to fans we recognise, and empathise with, the deep sense of grievance over West Yorkshire Police's effective criminalisation of Hull City supporters. Therefore whilst reluctantly accepting the increase in ticket allocation and slight reduction in travel restrictions as the most practical solution for fans wishing to attend the match, we have also decided to support a protest march organised by the Football Supporters' Federation, aimed at highlighting the treatment of away football fans.
The march from Huddersfield Town Centre to Huddersfield Town's John Smith's Stadium is planned to begin at 2:30pm, arriving at the stadium at 3:00pm at which time the march banner will be handed over to Hull City supporters attending the match. The banner will then be displayed across the empty seats in the away end.
In taking this twin-track approach Hull City is addressing the broad range of opinion amongst its fans, which allows for a freedom of choice to protest WYP's security categorisation through the march, a boycott or match attendance.
The key message that both the Football Supporters' Federation and Hull City are seeking to highlight is that football is a spectator sport that is made complete by the presence of fans, home and away, with singing, banter, rivalry and a little rough humour; all of which combines with the match itself to create the heady cocktail of atmosphere that gives fans a great day out. Without fans, football stands at risk of becoming a dry, sterile affair lacking such emotion and passion that supporters so enthusiastically provide.
At the same time Hull City announces the formation of its Fans' Liaison & Advisory Group (FLAG), which will engage with fans to bring added life and spectacle to the KC Stadium on match days and allow fans a presence and voice in shaping the match day experience. FLAG's first meeting took place on Friday 15th March and will convene on a regular basis.