Cape Town: Residents furious over planned changes to Cape Town Stadium
source: IOL.co.za; author: michał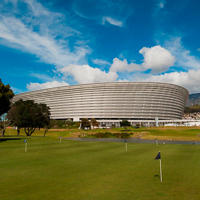 When it was still only on paper, the new stadium at Green Point met with strong opposition from local residents. So a ban on commercial outlets inside was announced. Now authorities want to waive the ban, but show little evidence this will improve the venue's financials – say residents.
Due to its location in one of the prime spots of Cape Town, quiet and green district of Green Point, Cape Town Stadium met with very strong opposition from residents around it, mostly living in low-rise housing.
They were afraid not only of matchday traffic, but also of the potential impact bars and restaurants inside the stadium may have on their everyday lives. To calm them down and push the project forward and meet FIFA deadlines, authorities agreed to put a ban on any commercial outlets inside the venue. It was only to serve sports events.
But after 3 years in operation, the ground is a real burden to the municipality, generating huge loss every year. Thus authorities want to waive the ban and produced a 43-page report on how this may change things around for the venue's financials.
In its first detailed response on the idea of commercialising the R4.5 billion venue, the Green Point Ratepayers' and Residents' Association said a 43-page analysis on a business model for the stadium was "heavily weighted with propaganda" in favour of the city's predetermined application.
"Having read the report, one is left with the unfortunate impression that the city is being disingenuous in seeking blanket removal of restrictions…" the association said, adding that there was concern "that there is a more sinister intention of removal of all controls over what is done on the public open spaces of the common".