Budapest: Ferencváros played their last game at Flórian Albert
source: StadiumDB.com; author: michał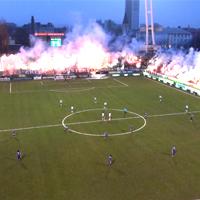 Club legends, film depicting club history, there were fireworks. Perhaps the only thing that yesterday's ceremonial farewell lacked were goals. Anyhow, time to move on. And move, literally, 4 km up north.
Geographically it's not a distant location. Stadiums of Flórian Albert and Ferenc Puskas lie on the same side of the river Danube, some 4km away from one another. But for fans of Hungary's most renowned club it's the end of an era. Almost 30 years, or one generation, "Fradi" were watched from these very stands, at Ülloi út 129.
Now FTC are to play over 40 games at the national stadium, while their home gets rebuilt. It's been sentimental recently, as the club held their last league, cup and friendly games in recent weeks. Yesterday saw the ceremonial farewell. Pre-match events included presentation of club legends (champions, medalists and the Champions League team of 1995/96) and history.
The game itself, one against Romanian CFR Cluj (instead of initially planned Rapid Wien), ended goalless, seemingly not honouring the stadium well. But this didn't matter all that much, as fans put their biggest emphasis on the last league encounter in early March. The lifespand of current stadium began with a derby against Vasas, lost 0:1, and ended with league clash with another archrival – Újpest, this time won. No wonder that game saw fans present something quite spectacular:
So much for history, now it's time to move on. And time for Market Zrt construction company to move in. Dismantling works should start in upcoming weeks, while the whole 22,600-seat new stadium should be ready in late 2014.