Atlanta: One more $1bln stadium coming up?
source: nbcsports.com; author: michał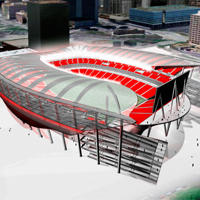 Two are operating, one under construction and several more waiting to be built. Now it seems Atlanta may join the club of most expensive stadia as mayor and Falcons owner announce partnership to make the dream happen.
Cowboys Stadium ($1.3 billion) and MetLife Stadium ($1.6 billion) are already standing, while a new giant is being built in San Francisco. Then there's the line of other venues planned, like those in Los Angeles and Minneapolis. Soon Atlanta may join the party with their new $1 billion project.
The new downtown stadium would replace Georgia Dome, the city's largest, but aging stadiun. After 21 years in operation the venue seems close to getting demolished as owner of Atlanta Falcons and city mayor announced partnership to build a new arena.
The project would receive public support of $200 million. Since more and more Americans are unhappy with "stadium taxes", the money is expected to be made with an extra tax on... hotels, impacting those from out of town.
The plan still requires Georgia World Congress Center Authority, the Fulton County Commission and the Atlanta City Council approvals, but with the mayor aboard it seems rather safe.