Athens: Panathinaikos return to their old stadium
source: protothema.gr / econews.gr; author: michał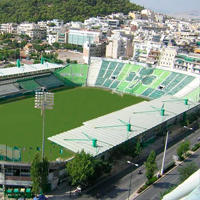 The impoverished powerhouse of Greek football prepare to move back to their historic Leoforos stadium. After current season ends, capacity is to be increased to reach 20,000 seats.
It's already been reported in late 2012, that Panathinaikos can no longer afford to play at the giant Olympic Stadium in Athens. The club is undergoing serious financial difficulties and is thus forced to move to their old, smaller stadium.
The Leoforos is currently going through a modest redevelopment to meet all requirements of the league, with new turf already laid. First game at the venue is to be played on April 21.
The club also plans to increase capacity by the beginning of next season. All seats are to be taken off and replaced by smaller ones. This will allow the capacity to grow from over 16,500 to some 20,000.
Worth mentioning, Panathinaikos received guarantees from municipal authorities in January, that Leoforos won't be demolished until the club move to their new Votanikos Arena.