Warsaw: Events at Stadion Narodowy potentially illegal?
source: WP.pl / PAP; author: michał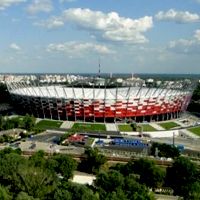 One of former contractors has filed a notice of potential crime being committed at Polish national stadium. According to Alpine Construction the stadium hasn't been safe ever since Euro 2012.
On Thursday lawyers of Cameron McKenna submitted a notice of potential crime committed at Warsaw's Stadion Narodowy. Lawyers were hired by Alpine Construction Polska, one of three general contractors delivering the venue.
According to the notice, the stadium has severe lacks in fire safety, which were first found after Euro 2012. This is when Alpine hired a subcontractor, Małkowski company, who found numerous flaws. Among them damaged hydrants or smoke-tight doors and many others, which in practice make the stadium incapable of hosting events, among which were Poland-England game and… a State Fire picnic.
Alpine and former stadium investor/operator NCS have a history of mutual tensions. Investors claimed contractors didn't manage to deliver the stadium on time and left the project with multi-million arrears for subcontractors. Meanwhile all three general contractors went bust over this stadium within months of opening and blame NCS for the situation.