Stadium of the Year Nominee: Stadion Utama Riau
source: StadiumDB.com; author: StadiumDB.com team
We're not going to tell you it's the best one, but we're pretty sure there is room for a different view on sport stadiums, especially in countries that have a different sport reality.
Had it been built in Europe nowadays, we'd say it's a regress to early 1990s and the Italia '90 World Cup, pretty much. From our perspective it's irrationally big, in the middle of nowhere and somewhere between olympics and Superliga football in terms of aspirations.
But it was neither built in Europe, nor is it 1990s. It's simply the way Indonesia is developing its sports infrastructure with each province getting a central venue like this one, able to take 40-50,000 people for large events, able to host national games (much bigger than what we see in Europe) and other non-football events. Taking the PSPS Pekanbaru as a new home for big games is its added value. And that's fair.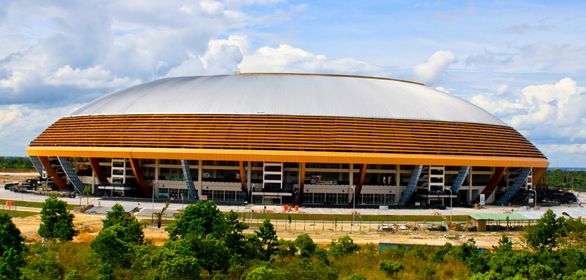 This approach is hardly close to the business mode in which stadia of Europe or the US function, but hey, we're not the ones to put business over sport. If they want to have a venue for large sporting events that aren't league football, let them have and enjoy it. Especially that this stadium is quite decent business-wise as well, providing extensive infrastructure for 'premium' guests.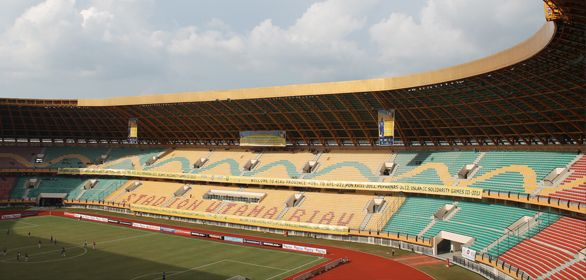 In terms of aesthetics, it's not bad from the outside, actually really nice. It's simple, bulky, but works – dynamic shape, clear lines and seems to function well, allowing air to ventilate the inside through blinds below roof line. Inside it's much worse as we can hardly find justification for the kind of colours used, while seating layout is obviously compromised by large distances from the field.
But with all the doubts we may have as to this stadium's football-friendliness, we still need to remember the price tag. Extremely low, compared to most stadia built nowadays. With some €1,500 per seat this almost 4 times less than Kyiv's Olympic Stadium, reopened last year and also compromised in terms of football…
This is our last review of our 16 Nominees. Now it's you and you alone to judge them and decide. You have three more days until deadline passes. By the end of the week, we'll know which venue gets to be Stadium of the Year 2012!