Stadium of the Year Nominee: Stadion Narodowy
source: StadiumDB.com; author: StadiumDB.com team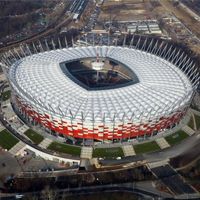 One of the strongest Nominees, not only for its Polish origin. It's simply a challenge to name more than a few stadia worldwide that could compete in many terms. But make no mistake, it's got its darker side as well…
As one of our Competition websites originates from Poland, this venue seemed a strong Nominee from the start. But then again, shouldn't it? Poland is literally one of 5 countries worldwide that have national stadiums with retractable roof. And it works just fine, despite what Poland-England game may have looked like...
That said, roof at Stadion Narodowy does pose some problems in its permanent part. It's so vast that little sunlight can get inside, causing sustaining of the pitch a challenge. Not what we'd expect from a stadium of this class.
The exterior is bright and simple, some even call it tacky. We don't, because it's high quality in terms of materials used and wrapping stadia in host colours is more natural than making it neutral. Perhaps the scale is what makes some people anxious – there's simply no other building in Warsaw that can compete, even the growing downtown with its skyscrapers seems somewhat small.
As for interior, we find the stands having a proper football layout, two tiers with the corporate level rather discrete make what we expect a 55,000+ stadium should look like. For the time being it's hard to say if capacity and premium seating proportions were calculated rightly for the demand, as only one (literally) skybox has been sold by previous management. That being one of the reasons why they're 'previous' after barely a year…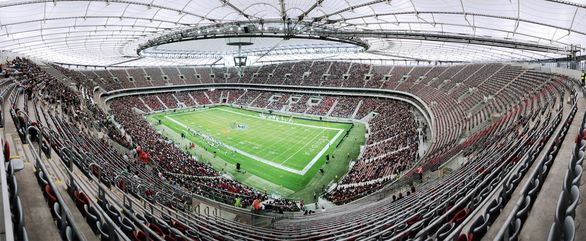 Photo: Stadiony.net
Many people in Poland complain the capacity is too small as no Olympics or Champions League final can be played here, but we see no reason to agree here. You don't build a stadium for one event, unless you want to pay for it for the rest of your life (and, of course, it's always taxpayers' money in the end). Sustaining a venue of this size without any permanent host (national team matches are hardly enough) is a burden already with 58,000, so we don't think Warsaw will have a problem with insufficient capacity any time soon. Maybe even in this stadium's lifespan…
Apart from very poor management in its first year, the stadium has one massive downturn. It's the price tag, putting it on the list of World's most expensive. And it's not exactly New York or London we're talking about to cost… no-one exactly knows how much at this point, because it's not finished yet. But if the cost goes beyond $600-700 (or more), we won't be surprised. Compared to just two of this year's other Nominees of similar class (Lille, Solna), that's massive overspending.
Majestic or tacky? You decide! Remember to vote before midnight on February 23, when we close the polls. Stadium of the Year will be announced on Sunday, Feb 24!