Stadium of the Year Nominee: New York Stadium
source: StadiumDB.com; author: StadiumDB.com team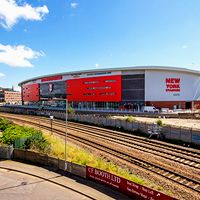 Probably one of the least favorite stadiums on the list, but that's a compliment for stiff competition rather than affront for Rotherham United's new venue. Especially that taking United's needs, we think it's really sufficient.
As first renderings of New York Stadium were presented back in 2011, we thought "oh, this is going to be interesting". Of course not spectacular or innovative, but a break from the extremely uniform stadia built from late 1990s.
When you look at construction materials, techniques or cladding, it's still pretty much an 'identikit stadium', but the graduated roof height is fresh enough to give it a distinctive look compared to others. Renderings were still more impressive, but only because they gave aerial view, making the roof more appealing than from pedestrians' perspective.
And we don't think pedestrians should find reasons to complain as well, judging its appearance. As far as interior is concerned, however, we find it simply fantastic. Compact stands, pretty steep and really close to the field, with no barriers between players and fans, create a really intimate atmosphere and are the essence of what we've always associated 'the English model' with.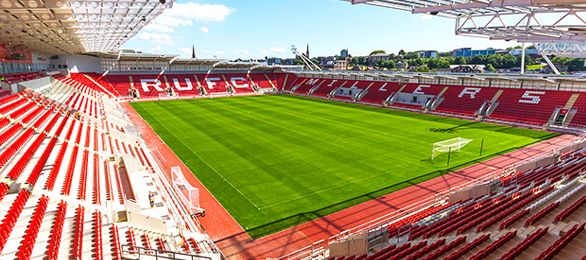 All that in just a year and within £25 million? Sounds like a deal many clubs would be willing to sign, of course if only 25 million was something they had in the first place.
If you agree with us that it's a very decent venue, or disagree completely, please let us know by voting. The 'Stadium of the Year' vote is open until Feb 23!