Stadium of the Year Nominee: Myresjöhus Arena
source: StadiumDB.com; author: StadiumDB.com team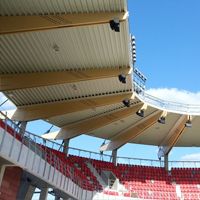 We've been asked, why we even consider stadia like this a competition for major arenas. but for us, Stadium of the Year would become pointless if we excluded real football stadiums, especially those that stand out from the rest…
Its facades aren't covered with illuminated foil, its bowl is no "bird's nest", but actually it's still a really distinctive stadium. Standing in a leisure neighbourhood, covered with wood, even built with wood (check out the roof structure) and then there's the wooden interior, really looking great. Please forgive our connotation with IKEA, but we mean it in a good way – simple and cosy.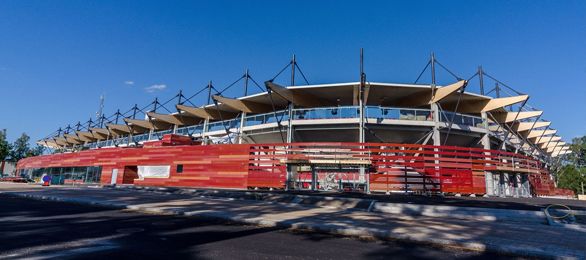 Stands are robust and despite having only 16 rows in total, have been divided into two tiers, making the venue seem bigger. At the same time this gives great sightlines even from last seats and brings everyone close to the action.
Downside of this solution is that creating a loud atmosphere and engaging everyone in support is more difficult. Then again, Östers IF doesn't really have the reputation of AIK or Djurgårdens. With their modest home numbers the 2,000 standing terraces (which would be seen as reckless in England) seem sufficient and judging by some choreos presented already, they're making the best of the conditions this stadium offers. And there are decent conditions for corporate clients as well, so this looks like a healthy compromise to us.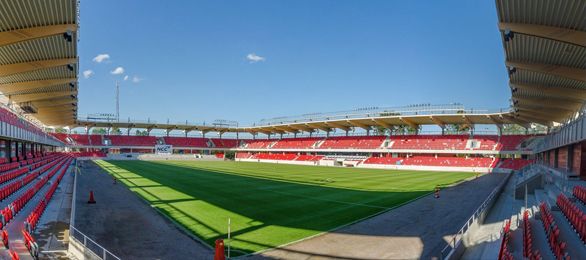 Then there's the price – SEK 204 million (€24m, $32m). That's a really fair price tag, not to say a low one. and of course construction time of less than 1,5 years despite Sweden not being exactly the friendliest place to build with winters that would easily paralyse some countries. To us this stadium is a job well done…
If you also think so (or if you don't!), remember to share your opinion by voting for Stadium of the Year before Feb 23.