Stadium of the Year Nominee: Incheon Football Stadium
source: StadiumDB.com; author: StadiumDB.com team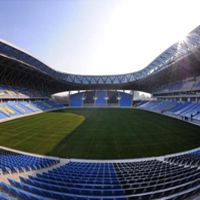 Futuristic outer shell, almost flawless interior layout and a football-specific one to begin with – this isn't common in Korea. In our opinion the best venue opened there since the 2002 World Cup, if not ever at all.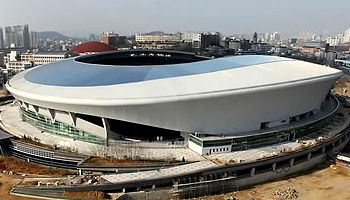 Whether you look at it from street view or aerial one, Incheon Football Stadium is interesting. The open form surely doesn't improve acoustics and overall matchday atmosphere (those impacts mostly away fans allocated on the uncovered terrace), but was well thought through, adding dynamism to the stadium.
This way even without being enclosed, it seems complete. Especially that there's a viewing platform allowing to see all of the inside from afar, making the stadium seem open even when actually close. We're not sure if it's useful and attractive for local people, but is original.
Steel structure supporting the roof is nicely designed, cladding of high quality and the green glass makes a very decent addition both outside and on the pavilions inside the ground. Worth noticing is the restaurant terrace covering some of the corner stand. Seems interesting and surely doesn't take the space regular supporters need, because there's not that many of them. Incheon United may be a great club, but not the biggest yet, they still need to work on filling their new home.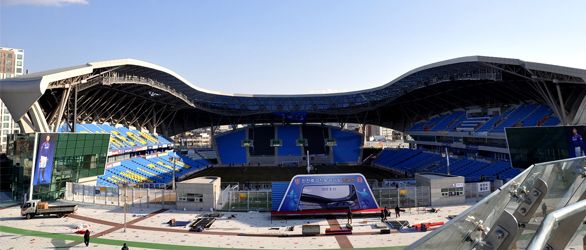 When they do, they'll find it's really made for football – not common in South Korea, where most stadia have running tracks and rather flat stands. Here one of the end zones was converted from initially planned 2-tier structure into one steep terrace with some seats replaced with standing section. We like it and based by fans' preferences (they asked for it), they're also pleased.
No matter the outcome of 'Stadium of the Year' vote, we hope this stadium will be a trailblazer for Korean football. If so, infrastructure-wise they'll be following the right route, friendly to corporate clients, families and fanatics. And nice to the eye, too!
Remember to make your selection in the 'Stadium of the Year' vote before Feb 23. This nominee is listed along with 15 others and you may choose 5 venues that deserve top spots by giving them notes, accordingly.