Stadium of the Year Nominee: Friends Arena
source: StadiumDB.com; author: StadiumDB.com team
If a sports arena is suitable for almost any kind of event, can it retain a true football ambiance? Upcoming years should give us an answer in Sweden and things surely look interestingly...
We continue our subjective summary of each stadium nominated for Stadium of the Year award. At the same time you may cast your subjective notes to 5 of the 16 venues through our voting platform!
Today we visit Sweden for the first time and for quite some reason. After all, few new stadiums have to rise up to the legend of a predecessor like Råsunda. A legend's gone to the past, what replaced it?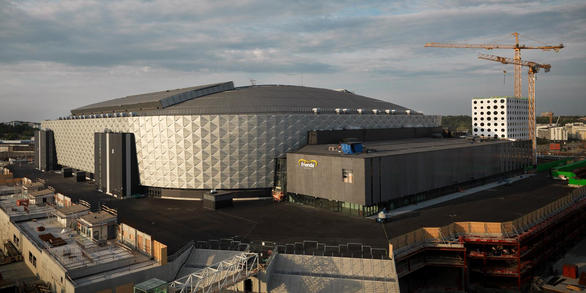 One of the best planned venues ever, that's for sure. Retractable roof with permanent structure capable of holding massive amounts of stage equipment, not only the usual screens, pitch lighting and loudspeakers. Optimum seating layout to give everyone a good view of the action. Then curtains that may cover upper rows and create a more intimate ambience for smaller events. Then the telescopic lower stand behind goal. Then there's air conditioning. And all of it is packed into a really robust wrapping.
The arena is modest – the perforated cladding reflects sunlight in different ways depending on time of day (which means it does get a bit dull on cloudy days, though) and gets vividly illuminated in the evening. That's all great, but if we had to point out one possible weak point, we'd go for aesthetics. The stadium went too modest and we're not fans of the hangar-alike appearance too much.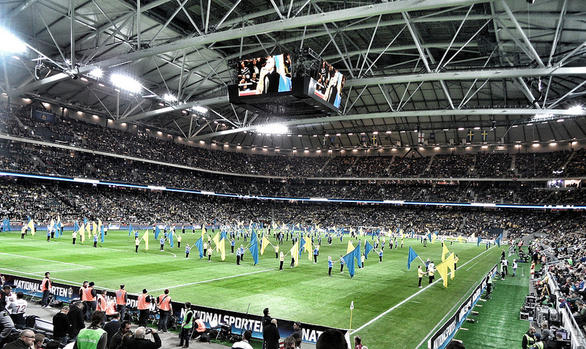 Obviously this makes it easier to create identity for single events, but will the approach work for AIK fans? Many of them were very critical of the new stadium before moving in and we're still to see whether it will change their minds. But the biggest problem of this venue in terms of creating a strong image for itself is the fact that it came after Råsunda – one hard to beat.
Not even the low budget (making the arena even better value for many) or the charitable naming rights move will be helpful when competing against a legend. And it seems the times of legends like Friends Arena's predecessor belong to the past nowadays...