South Africa: Criticism over Nelspruit and Port Elizabeth hosting
source: allAfrica.com / StarAfrica.com; author: michał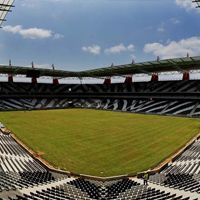 "Disgraceful" is one of many words used to describe the pitch of Mbombela Stadium in Nelspruit. Still, organizers decided not to move fixtures somewhere else. Meanwhile in Port Elizabeth very few people bothered to come to games, leaving vast majority of seats empty.
Name one team from Group C of this year's Cup of Nations and you'll undoubtedly find they're unhappy with the pitch. All of these teams (group includes Zambia, Nigeria, Burkina Faso and Ethiopia) played at Mbombela Stadium, which fell under criticism for very sandy and bumpy pitch.
Ahead of tomorrow's quarterfinal Emanuel Adebayor of Togo called the field "disgraceful", but CAF decided not to move games away from Nelspruit. The venue will also host the second of the two semi-final matches.
Meanwhile today's last game in Port Elizabeth between Ghana and Cape Verde proved that hosts had no idea how to fill the Nelson Mandela Bay Stadium. Criticised for appalling attendances in previous games, the stadium was again filled in less than 20% today, with barely 8,000 people inside despite appeals to citizens to come in big numbers.