South Africa: Collusion inflated prices of most expensive stadia
source: IOL.co.za / SowetanLIVE.co.za; author: michał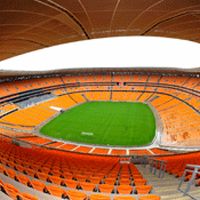 Two most expensive venues of the 2010 World Cup had their costs rigged by contractors – ongoing inquiry reveals. Their price tags rose significantly throughout construction – Cape Town Argus reports. Will cities get their money back now?
The Competition Tribunal revealed that top construction companies illegally rigged contracts worth billions of rand. The activity may have concerned up to 70 large infrastructural projects, including two most expensive stadiums built for the tournament – Soccer City in Soweto and Cape Town Stadium in Cape Town.
The latter proved most expensive despite its scale, inferior to venues in Soweto and Durban. Initial budget estimated at ZAR 2.9 billion has risen to ZAR 4.3 billion during construction works. The newspaper said at least 11 affidavits had been made by executives from Stefanutti Stocks, one of the country's biggest construction firms.
The City of Cape Town will try to recover money from construction companies if the Competition Tribunal finds them guilty of collusion in the building of the Cape Town Stadium. The companies could also be sued for damages, and blacklisted.