Russia: Fraud investigation launched in St Petersburg
source: Rsport.ru; author: michał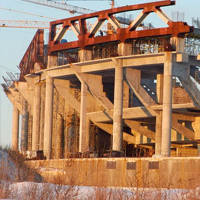 This wasn't only possible, but almost certain to happen. Criminal investigation for possible frauds or negligence at Zenit stadium's construction site was launched. What's next for one of the most expensive stadia in history? Rsport.ru reports.
In November, I signed the documents for the institution of a criminal investigation, which were handed over to the law-enforcement bodies," St. Petersburg's top prosecutor Sergei Litvinenko said. "The investigation was launched 10 or 14 days ago. The investigation will reveal the truth."
As Rsport.ru reports, the investigation is to reveal possible fraud cases or negligence at the construction site of what was to be Russia's most modern stadium.
The venue of 2018 World Cup semifinal has a budget of some RUB 45 billion ($1.5 billion, €1.1 billion) – almost 4 times what it was supposed to cost. And this may not be the end of 'hyperinflation' at the construction site as the stadium, due in 2008, is still far from finished. Zenit authorities publicly doubt that this public investment will stay within expected deadlines of 2014 or even 2015.
It's hard to keep count of all the image blows this stadium has suffered, with most recent case being 60,000 seats going to waste. They were bought years before installation was planned and then stored outdoor, subject to sun, rain and snow. As a result they're not suitable any more and FIFA refused to accept them.