Nuremberg: Grundig didn't make everyone happy
source: Nordbayern.de / Faszination-Nordkurve.de / Focus.de; author: michał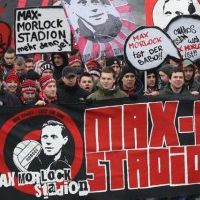 New naming rights deal for Frankenstadion is a relief after much hated "easyCredit Stadion", but for some fans no sponsor should take the name. They've been fighting for several years and aren't stopping now, saying this deal only makes them stronger.
He played almost 500 games for 1. FC Nürnberg, scored almost 300 goals – many clubs never even had legends like that in their history. That's quite a reason for fans to ask for Max Morlock's patronage over the football stadium in Nuremberg.
Max-Morlock-Initiative has been lobbying for the name Max-Morlock-Stadion to be adopted for a couple of years now. So far the club and city seem deaf for their appeals as this didn't happen neither when easyCredit sponsorship was on, nor did anyone consider it now, as Grundig stepped in as official sponsor of the Frankenstadion.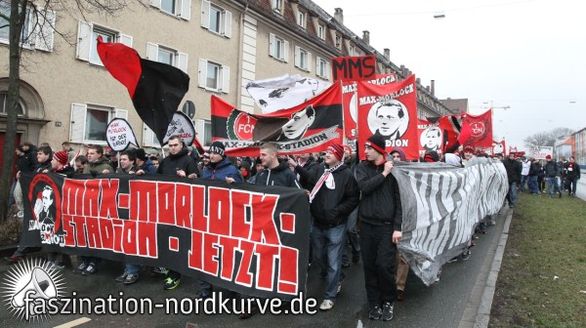 Fot: Faszination-Nordkurve.de
That's why around 600 fans protested before Sunday's game with Hannover 96 first on their way to the stadium, then inside the ground, with slogans reaffirming they'll continue their campaign: "Traidition statt Kommerz" (Traidition instead of commerce), "Unser Stadion ist keine Nutte" (our stadium is no hooker) or "Grundig macht uns grandig" (Grundig makes us stronger).
Many supporters are at least relieved with Grunding acquiring the naming rights deal, as even the sight of white seats saying "easyCredit" makes things change for the better – previous sponsor caused massive criticism for the odd name easyCredit Stadion. Plus, Grundig has local roots, being established in Nuremberg back in 1945.
However, Max Morlock campaigners don't seem the least satisfied with Grundig's "locality". Currently the company employs just about 100 people in Nuremberg, having sacked thousands and being taken over by Turkish Beko group. The initiative would prefer no sponsor at all and fans have already done the maths – if 1. FC Nürnberg raised ticket prices by as little as €1.7, revenue stream wouldn't decrease even without sponsorship.