New design: Gamba Osaka Stadium
source: StadiumDB.com; author: StadiumDB.com team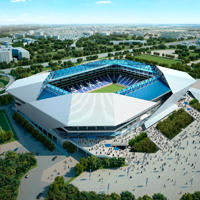 It's been the dream for the last 5 years. As enthusiasm weakened in recent months it's not certain the dream will be introduced in the shape it was hoped to be. But nevertheless, it's hard to find a similar project done in Japan since the 2002 World Cup.
First presented in 2008, the design for Gamba Osaka became a long-term ambition of the club. Becoming J.League's first club to have such a big, modern and "English-styled" stadium was the dream. 40,000 seats makes the planned venue largest one opened since the World Cup and first one that big opened specifically for a football club.
Initial vision showed stands being divided into two regular-seating tiers, divided by two levels of corporate suites. However, due to fan expectations and regulations for Japan national team games (demanding one end stand to have 10,000 people), one goal stand lost the skyboxes (reaching 40 rows instead of 28) and together with corner sections met the requirement.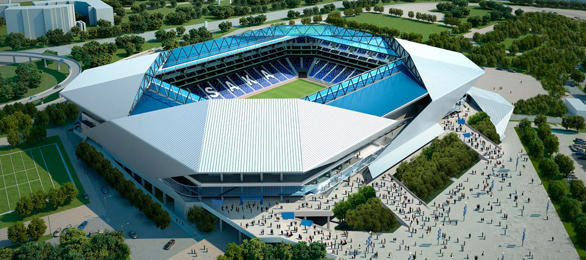 With a simple, but interesting form of rectangle wrapped in a metal frame in the corners, the venue is also expected to be energy-efficient and ecological, using known solutions like rainwater usage or photovoltaic panels on the roof. But less common to people from outside Japan are the means used for the event of a natural disaster. The stadium is expected to become a major shelter for people and warehouse for food and water.
What's more, the stadium was to be financed privately (and only later donated to public authorities), which proved more difficult than anyone expected. Gamba decided to raise all the required funding from donations. A massive ¥14 billion (€110m, $150m) just from contributions of local businesses and residents? That seemed optimistic especially that the club gave itself a 1 year period, from March 2012 to March 2013.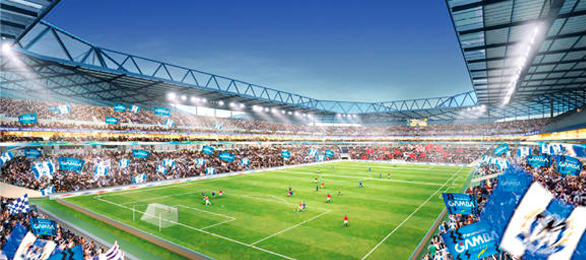 First months were very promising with over 50% of the amount within first 6 months. But then came relegation to J.League Div 2, a real shock for fans used to being in the top five of Japan rather than even considering mid-table. And then donations almost stopped. Since October 2012 the club managed to get only ¥200 million (or 1.5%) and is still well short of the desired budget.
Still, construction may start in second half of this year and if so, will end in 2015. There are several options of making it possible even without meeting the ¥14 billion goal. National lottery may grant up to ¥3 billion, then there's the option of downscaling some parts – for example, leaving giant screens for installation at a later date. Last resort is downscaling the stands from 40,000 to some 32,000 in a cost-cutting attempt.