London: Arsenal preparing Bergkamp's statue
source: DailyMail.co.uk; author: redakcja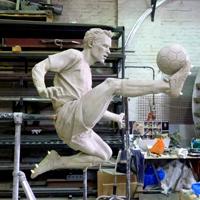 Due to be revealed this summer, Dennis Bergkamp's monument was already presented to the public. Club legend is to be remembered as he controls the ball in the air.
He spent 11 years playing for Arsenal, scored 87 goals in 315 games, had well over 100 assists and was one of those responsible for Gunners reaching 7 domestic trophies. No wonder Arsenal thought he should become the 4th legend to have a statue outside Emirates Stadium.
The figure, still being prepared, captures Dennis Bergkamp doing a karate kick in the air to control the ball. This memorable moment took place during the 2003 Newcastle game. Final form will be available to the public once the statue is revealed this summer.
Bergkamp will follow Thierry Henry, Tony Adams and Herbert Chapman, who have their monuments at Ashburton Grove since late 2011. Bringing legendary players and officials to the new stadium is a follow-up of 'Arsenalisation' campaign, ordered by Arsenal to make the new stadium seem less corporate and more fan-friendly. Among other, murals and fan-related stories were placed around the stadium, along with historic numbers and achievements.