Lebanon: New stadium for Beirut?
source: DailyStar.com.lb; author: michał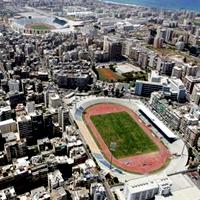 That's the promise, but it's one awaiting fruition for some time already. And more, it would come at the cost of existing Beirut Municipal Stadium, which is surprisingly popular as a leisure spot for local residents.
When Beirut Mayor Bilal Hamad came to office in 2010, he joined a long list of officials who have tried to impose their vision on the Municipal Stadium. Contrary to his predecessors he envisages a multi-storey car park with a football training pitch, modest park and public library instead of a stadium overhaul.
Documentation is said to be ready for some time now and the whole project should be financed by Beirut municipality with cost at some $40-50 million. New parking spaces would be privately-operated after completion.
Despite opposition from urban planners and the management of the Ansar football team, which plays its home games there, Hamad said he is pushing ahead with the delayed project.
The design plans for the parking and civic complex were completed five months ago, and Hamad said he recently submitted them to the secretary-general of the Cabinet for approval. The municipality has yet to complete plans for the proposed new stadium in the Horsh that would replace it.