Germany: Alemannia Aachen moving to… the Netherlands
source: ad.nl; author: michał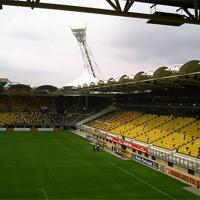 The Aachen-based third league club is insolvent and cannot afford to play at its brand new stadium. There seems to be no realistic alternative in nearby German towns, so the club will move to Dutch Kerkrade for next season, ad.nl informs.
They played in Bundesliga back in 2007, reached the German Cup final two years before that. This club was expected to thrive and new 30,000-capacity stadium was built to boost the performance.
But today reality isn't even close to that dream. Alemannia declared insolvency and club officials found themselves in a situation in which they cannot afford to play at their own stadium. Despite operator attempting to lower the rent (normally at €1.7 million) to ease the desperate situation, Alemannia is still set to move.
First plan was to relocate some 30km north-east, to Juelich. But that stadium proves too small for 3. Liga, well below German requirements. And it's also too small for Alemannia with 5,500 people.
With no other venues feasible for a move on the German side of the border, next option on the table, most viable if Alemannia manage to avoid relegation this season, is moving to Dutch town of Kerkrade. Ironically, it's twice closer to Aachen than Juelich, with distance between Tivoli and Parkstad Limburg being just 15km.