Euro 2020: Brno to bid for Czech Republic?
source: brnensky.denik.cz; author: michał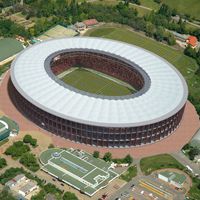 Detailed project is ready, but the city couldn't secure sufficient funding on its own. Euro 2020 gives a chance for central budget support as this is the only venue throughout the country that might host the Europe-wide tournament, Brněnský deník reports.
Had everything gone as planned, the redeveloped stadium would already be standing. But Brno hasn't been able to secure the CZK 1.6 – 2.2 billion (€63-87m, $84-115m) required for revamp along Atelier Brno vision from a few years back.
As a result, the cult stadium Za Lužánkami remains literally a ruin and still awaits better days. These may come as municipal authorities eyed an opportunity in Euro 2020. The reconstructed stadium would hold 30,000 people and would thus be Czech Republic's only venue able to apply for the pan-European tournament, possibly becoming one of two 30,000 "exception stadiums".
Of course vital support has to come with funding from the national budget, but first Czech football federation needs to confirm its interest in any bid. As Jaroslav Kolář of the FAČR claims, no talks have yet been held.
However, Kolář doesn't dismiss the idea as well. "If such a stadium gets ready in Czech Republic, we have a great chance to win some matches. But we would have to provide guarantees of the investment being secure next year", says the FAČR spokesman.