England: Reading to expand Madejski Stadium by over 50%?
source: BBC.co.uk; author: michał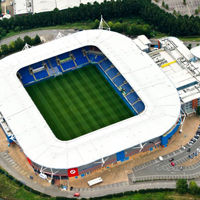 After their 4-year absence in the Premier League, Reading FC are again considering expansion of their home ground. Possible increase may raise capacity to 38,000. But first the team needs to avoid relegation. BBC reports.
Reading FC confirmed they will apply for planning permission to redevelop Madejski Stadium in the upcoming seasons. The increase can exceed 50% and bring capacity to 38,000.
But remaining in English top flight and retaining a decent squad has to come first If anyone, Reading know it well, as they've been given such a permission back in 2007, but were soon relegated and lost important revenue sources and thus the ability to begin the project. It wasn't necessary anyway, as Madejski Stadium is more than sufficient for Championship crowds, only selling out week after week when The Royals play in Premiership.
The club currently is only 2-points clear of the relegation zone, so with future still uncertain, their planning application will be submitted 'just in case'.