England: New York Stadium unfriendly to disabled supporters?
source: SouthYorkshireTimes.co.uk; author: michał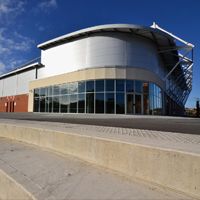 It's worse than its 100-year-old predecessor, claims a Rotherham United fan, who has been going to games for the last 20 years. Providing a facility that could hold disabled fans before games is, however, 'not practical' for United. South Yorkshire Times report.
27-year-old fan Michael Frost has dystonia and requires constant help. Since 7 he has been going to games of Rotherham United and claims that previous stadium has been much better for disabled fans than the newly opened New York Stadium.
"The police advise that you get into the ground by 2pm so that means you have a full hour and no room to sit in. […] It can get cold and you feel quite uncomfortable at the bar. People often complain about you being in the way."
As bar is packed before the game, Michael often feels like a problem for others, gets served last or simply hears unkind comments about using much space with his wheelchair.
Mr Frost has written to the club to raise his concerns but Paul Davis, stadium manager, said it was unable to offer supporters a special room to keep warm prior to kick off.
He said: "It would not be practical to offer the regular 7,000 supporters who attend our home matches such a facility.
"We have made arrangements for disabled supporters who have bought a ticket on level two to use the facilities on the west stand concourse. Sometimes procedures can been changed to improve the services we offer, but unfortunately there are occasions where requests cannot be granted."