Brazil: CONMEBOL investigating the accident in Porto Alegre
source: xinhuanet.com; author: michał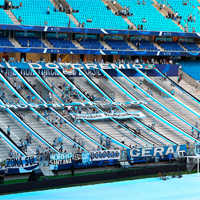 Arena do Grêmio isn't having the perfect opening run with last week's accident resulting in official investigation by CONMEBOL, South America's football federation.
Just as a reminder, last week during the famous "avalanche" steel barriers gave way at one section of the newly-opened Grêmio Arena, causing several people to fall into the concrete moat. 7 fans were injured, but thankfully none seriously.
It is believed that the fall was caused by people sitting on the very barrier at time of the avalanche, causing increased pressure and making the railings gave way. The case needs further examination as Grêmio asked architects to ensure the stadium would withstand the "avalanche", a distinctive feature of supporters in Porto Alegre.
Because last Wednesday's game was played in continental cup of Copa Libertadores, CONMEBOL has launched an official inquiry into the events. Grêmio are now asked to give their version of what happened. The club may face both financial and organisational consequences, like partial closing of the stadium.
"Conmebol's disciplinary unit has initiated a process against Gremio, notifying the club to present its arguments about what happened," Conmebol's disciplinary tribunal chief Adrian Leiza told Globoesporte on Monday.
The club's lawyer Gabriel Vieira denied Conmebol had already laid charges over the incident. "There is the risk of punishment but we haven't received any formal notification. We are going to defend our case," Vieira said.
Arena do Grêmio is nominated for Stadium of the Year award, presented annually by StadiumDB.com and Stadiony.net. If you haven't voted so far, please take a look at all nominees!