Azerbaijan: Olympic Stadium, but at whose cost?
source: www.rferl.org; author: michał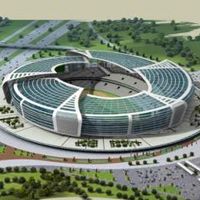 Baku will be the first ever host of European Olympic Games. Construction of a new 65,000-seater Olympic Stadium is under way, but residents around it don't know what will happen to them. Their homes are marked for demolition without any details as to when.
Baku's dream to host the Olympics was shattered by IOC eliminating their bids twice already. But first ever European Olympic Games, scheduled for 2015, will come as consolation for the ambitious Azerbaijani capital.
Construction works started in mid-2011 on the degraded industrial land. Currently you can still only see the foundations being laid, but by 2015 the $300 million stadium will be ready.
However, access routes are set to go through existing estates, populated by internally displaced people from the Nagorno-Karabakh region. Recently public workers have been making markings on numerous homes with numbers indicating where future roads will be going through.
The problem of residents is that they have no idea as to when their houses will be torn down and whether authorities are planning any compensations or relocation for them.