Africa: Uganda to restart works on national sports complex
source: newvision.co.ug; author: michał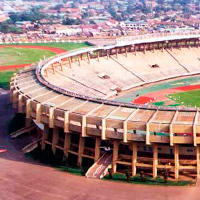 Though commenced over 15 years ago, the national sports centre has only received its central stadium so far. But as funding is available, surrounding infrastructure is to be built now, newvision.co.ug reports.
Built in 1997, Uganda's famous Namboole stadium never became what it was supposed to be from the start – heart of a major sports complex. Area of almost 50 hectares (120 acres) was left empty in 1997 and since then has only received new tenants, or encroachers, as the operator calls them.
Not only new buildings have started growing, but those that were due to be demolished, stayed in place despite owners receiving compensations. Hotels and prayer venues are among the encroachers that may now be forced to move away.
The land is earmarked for other facilities connected to the stadium that include training fields, a hockey pitch, an indoor stadium and swimming, diving and water polo pools of international standards. The stadium is planning to construct the facilities as per the master plan, in cooperation with 'partners'.