Africa: Soldiers protecting stadium from curse in Malawi
source: NyasaTimes.com; author: michał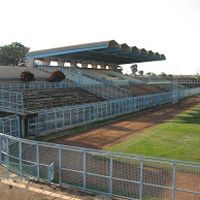 Before a crucial tie in Malawian top flight soldiers were deployed at Silver Stadium in capital Lilongwe. Their task was to prevent people from placing amulets that they believe might influence the outcome. Nyasa Times report.
Silver Stadium, a 20,000-capacity football venue in Lilongwe, Malawian capital, has been protected by military forces since yesterday afternoon. This move by public authorities comes as preventive measure addressed at "sing'angas" (juju men), who spell curses or place amulets at stadiums, trying to influence final result.
Today host team Silver Strikers (top of the table) meet with Kamuzu Barracks in a crucial tie that, if lost, might cost them losing their leadership in Super League. Still, the use of military to protect the stadium from away fans in such a way might seem odd to people not familiar with beliefs in some African countries.
Despite overall progress many people still accept amulets as a way to change games results. Various objects get hidden under pitches or in changing rooms. Just last week at the very same stadium away side accused hosts of cursing their changing room, by infesting it with blood and other objects.