Zurich: Pyrotechnics tested by fans and security officials
source: 20min.ch; author: michał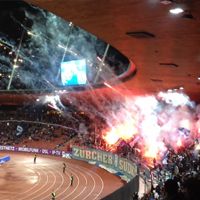 As promised back in October, Zurich commissioned testing of flares inside the stadium. Not during the game, but with empty stands. This came after football authorities blocked testing with fans inside – 20min.ch reports.
As we wrote in early October, Zurich authorities showed an open approach towards fans using flares inside the stadium. Only one stadium – Letzigrund – and only one stand – the Sudkurve.
First tests were to be carried out during November fixture against Servette Geneva, but they were blocked by the football governing bodies, who oppose the attempt to legalize flares.
Zurich municipality apparently didn't mind that too much as they still aim at finding a safe solution for the problem of non-controllable illegal flares. Tests were thus done on Jan 24, with Letzigrund being almost empty. Only fans of both FC Zurich and Grashopper-Club were in attendance, with a number of club, municipal, police and fire officials monitoring the trial.
The tests are now undergoing evaluation. They were to establish in which location and with what distance from other viewers should flares be lit to ensure risks are minimized. Zurich authorities were able to see firsthand in December, what happens when there's no control over pyrotechnics. This is what happened during the FCZ-GCZ derby.